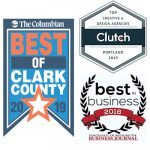 When looking to optimize your company's SEO, Vancouver, WA is a great place to begin the search.  We are a local web development company and we offer SEO (search engine optimization). We have clients all over the country but love working with clients that are local to our home town of Vancouver, WA.
Best-fit SEO Strategies
SEO is an important practice for increasing the quantity and quality of traffic to your website through organic search engine results, which can generate long-term, low-cost outcomes. PPC often refers to advertising through search engines, display networks, or social media networks and is an excellent method for driving a lot of qualified traffic over a short period to your website. Our tailored approach can help your business build and maintain valuable relationships with loyal customers across the country.
We offer a wide range of customizable SEO services. We are a local web shop with multiple employees working under one roof.  A lot of times SEO is outsourced overseas and you might never meet the people working on your website. We don't want that.
Not Just another Vancouver SEO company
Search Engines are a moving target, much like SEO in Vancouver, WA and beyond.. Google is always tweaking its SEO algorithm and if you want to show up in search results, you need to update your content to be search engine friendly.
We have copywriters who help with content and strategy. We help develop a content publishing strategy, backlinks, and other items to help your website rank better. Combine this with a solid strategy based on research and data, and you're off to the races.
Staying ahead of the SEO Vancouver WA Curve
Our data-driven SEO works because we're not re-inventing the wheel. We're not looking for shortcuts. We're not gaming the system. We are comparing effective strategies of your competitors and looking to make those strategies better. We may not be able to track the ever-changing minutia of Google's search algorithm – but we can stay ahead of the curve through industry news and the "always learning" mindset we approach all our projects with. Contact Us Now to schedule your free consultation with our lead SEO strategist. Give us a shout, whether you're in Vancouver, WA, Vancouver, BC, Portland, OR or Portland, ME.
Want to know how search engines rank websites in 2019? Read this article on Vancouver Business Journal by NW Media Collective's CEO, Abby Spyker.