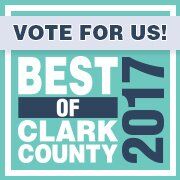 Thanks to our awesome clients and network of just awesome people, we were nominated for best web design company in Clark County!
The nomination period ended Feb. 12th. We made the list this year. Now we need your vote to win. Find web design under Services, Web Design category
The final ballot will be released Feb. 20th when we let the voting begin! For three weeks (ending Mar. 12th), Clark County will cast their final votes for the Best of Clark County.
Winners will be announced March 26th.
Nominate us at http://bestofclarkcounty.com