Why should you give your marketing agency user access to your Google Analytics? By adding your marketing agency as a user, they will be able to:
Confirm everything is set up correctly

Review data

Create easy to understand reports

Find new ways to increase traffic

Measure advertising ROI

Track events that matter to your business
But how do you add users to Google Analytics? This is a common question we receive at Northwest Media Collective, so we created this blog post to share how to add, edit, and remove users.
Steps to Add Users to Google Analytics
Adding a new user is easy once you have done it a couple of times and are comfortable permitting new users to collaborate.
Sign in to your Google Analytics account.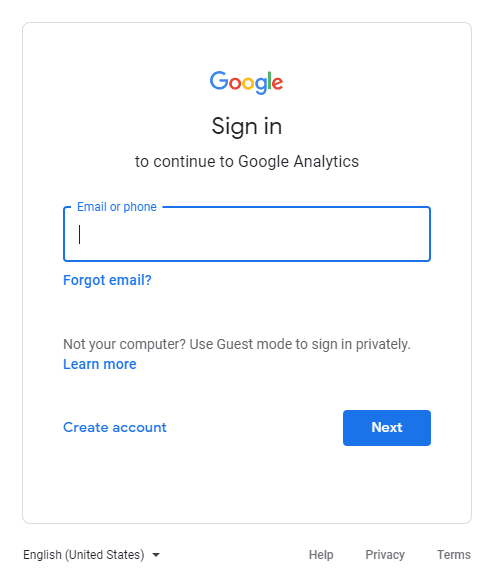 On the homepage, open the Admin page by clicking the gear icon at the bottom left of your screen.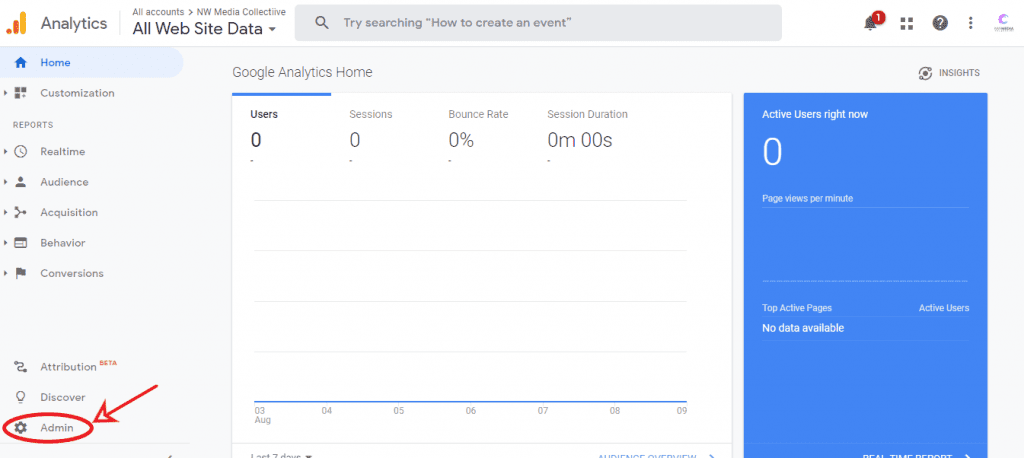 You will see three columns: "Account," "Property," and "View" on the Admin page. We go over the difference between the three User Management sections below. For now, click on Account User Management.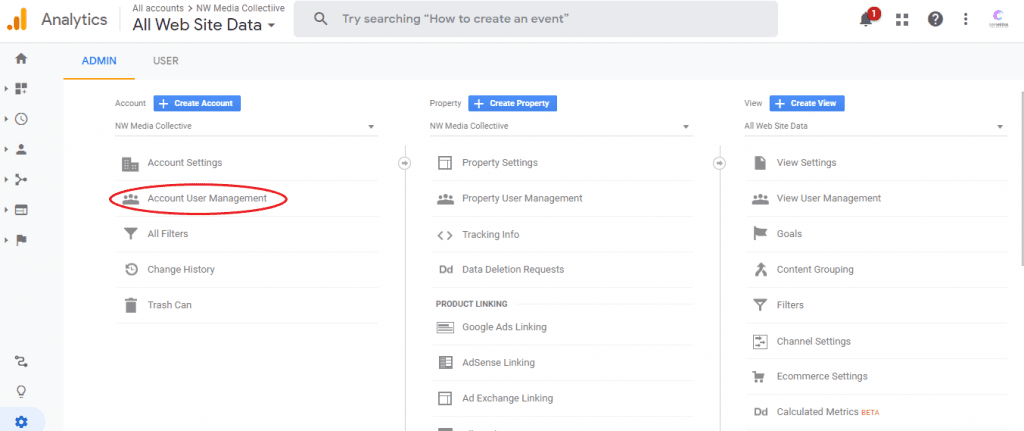 Click on the blue button on the upper right corner of your screen and choose "Add User."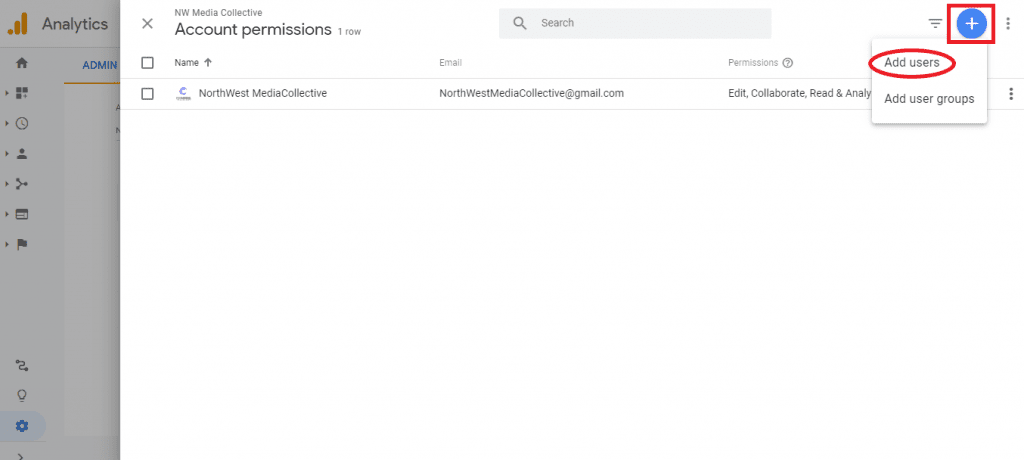 Put in the new user's email address then decide which permissions to grant them.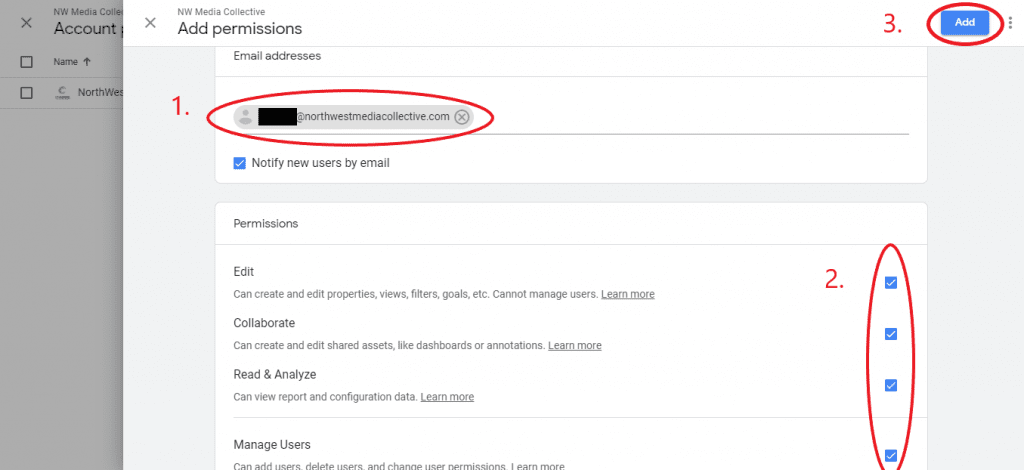 After granting permissions, hit "Add" at the top right-hand corner of the screen. The new email will appear under the current users, with the permission to the right of the email address.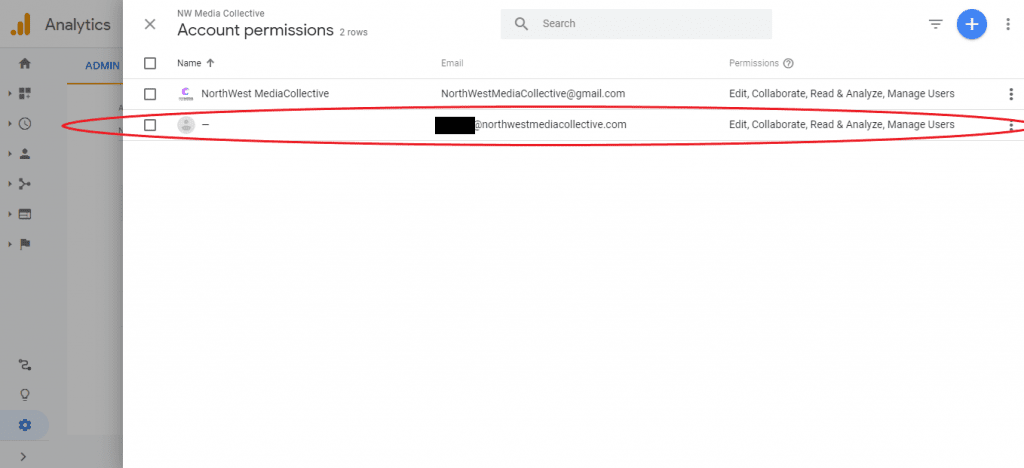 Differences Between the Three User Managements
Account User Management in the first column is like the parent setting, and Property User Management and View Management are the children settings. If you give permissions through Account User Management, the user will have the same permissions in Property and View. If you give a user permission to edit only in the View User Management, they will only be able to edit Google Analytics views, not the Property or Account.
What Permissions Should You Give Your Marketing Agency?
Usually, you want to give your marketing agency Edit, Collaborate, and Read & Analyze permissions through the Account User Management setting. That way, they can help maintain your website and create reports. But what does each permission allow a user to do?
Edit
Edit allows users to see report data and perform administrative and report-related functions such as adding, editing, or deleting accounts, properties, views, goals, and any other setting. This permission does not give access to managing users.
Collaborate
Collaborate permission allows a user to create, edit, share and delete personal assets. This includes shared assets as well. Multi-channel funnels settings, dashboards, unsampled reports, segments, customer reports, and conversion segments are all included in shared assets.
Read & Analyze
Read and Analyze permission gives a user the ability to see reports, configure data, and manipulate data. The user will also be able to create personal assets, share them, and see assets shared with them, but they can't collaborate on the shared assets.
Manage Users
Manage Users allows a user to add or delete users and assign permissions. This permission does not automatically include Edit, Collaborate, or Read & Analyze permissions. But with Manage Users, the user can grant full permissions to themselves and any other user as well as add users to Google Analytics.
Check out Google's Analytics permissions page for more information.
How to Remove or Edit Users in Google Analytics
Now that you know how to add users to Google Analytics, how do you edit other users' permissions or remove a user?
Open Account User Management, and click on the user email you wish to edit. A screen like the one below will appear where you can uncheck or check permissions for another user. If you want to remove a user, click "Remove" at the top right corner of the screen. Then hit "Save."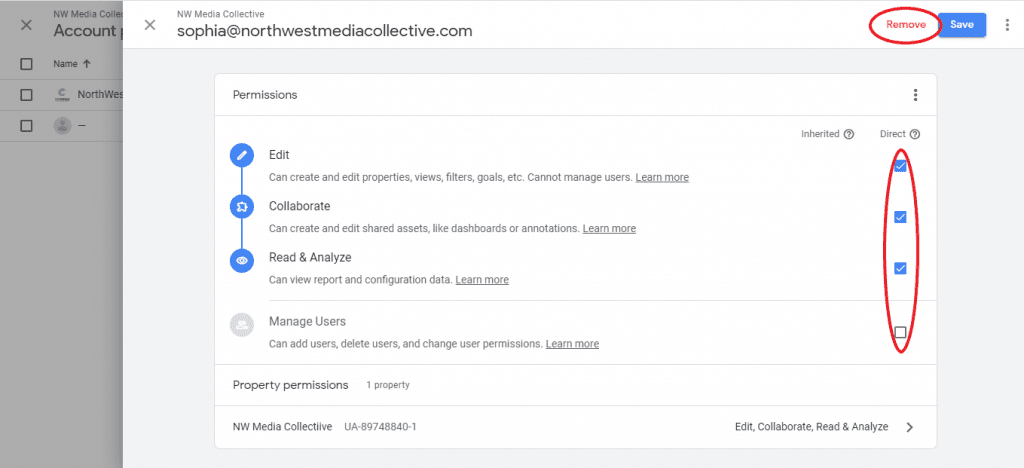 And that's it! In a few steps, you can add, edit, or remove users in your Google Analytics account.
If you are interested in working with us or want to find out more about our team and the services we offer, let us know and see how we can help with your SEO & Marketing goals.