Builtwith came out with another amazing Ecommerce report (here). This tells us 39% of all eCommerce sites are powered by WooCommerce and WordPress — over 1.5 million active stores.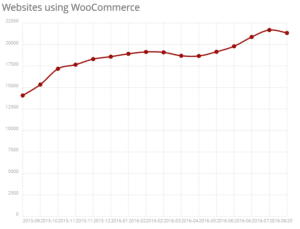 Stores backed by WordPress have some advantages when setup by a web professional. Since we are a company that builds Woocommerce sites, we know these advantages allow us to work faster, spend less money, and ultimately build a better functioning website.
The entire store is 100% under your control. This is one to the things that sets Woocommerce a part.  You own the site and you can move the site anywhere around the web easily. Other platforms control your content, and you can leave but its not just a simple detach your site and go type of deal. You choose where to host your store, how you want it to look, and how you want to add-ons to function.
When you set up a store with Woocommerce, you're in full control of the entire experience. When you download a theme, you can customize it to suit your needs. If your hosting seems slow, you can upgrade it or simply move hosts.
Even better yet.
You're not even stuck with WordPress: if you ever decide to move to a different platform, there's nothing stopping you from taking your data with you. WordPress allows you to export all your content, including Posts and Pages, in a handy XML format, while your WooCommerce products can be saved as a CSV. There's also an extension available to export your orders and customer data.
No matter what your plans are, when you start with WordPress, your store's data is yours (and yours alone) forever.
If you're not already using WordPress and the free WooCommerce plugin to run your online store, maybe its time to talk to a company who specializes on Woocommerce websites.  We have been using WordPress for over 10 years and Woocommerce for over 4 years now. Contact Us today to setup a time to talk about your e-commerce website project.