When it comes to marketing yourself or your business, especially online, value comes from visuals. In the last couple of years, infographics have exploded in popularity. Infographics provide a unique view of rather boring numbers and statistics that is inviting and aesthetically pleasing. Quick Sprout made the infographic about LinkedIn engagement a year ago, and provides a great example of a successful infographic.
But what can beat an infographic in terms of engagement and informativeness? Video. Users love to watch videos. In a 2013 survey, Accenture consulting firm found that 90% of global users watch video content online. If the numbers are that high, why isn't your company utilizing the medium?
Maybe at this point you're asking yourself "OK, but how do I produce a successful video to promote my small business without it being a blatant advertisement?" There are several ways to go about this.
For one, you will want to hire a professional videographer. Here at Northwest Media Collective, we have a wonderful videographer. Contact us today to get in touch with our videographer and receive a quote for your project.
Once you have a professional videographer, you have a few different options for successful video content for a small business. Creating an educational video about your business is one option. This would be ideal for a small business with products (as opposed to services, though it can also be useful for service-oriented businesses). The video would consist of how-to information regarding a product or handful of products your company sells. This will help inform customers about the product they are contemplating purchasing and how it works. This could also be done for service-oriented businesses, but would be more of a testimonial video. Your videographer could ask to film a few clients who would talk about the process and experience they had with your company. It is important to note that these kind of videos can also be about something related to what you do. For example, a web design company might post a video about Google Analytics to give clients a peak into website stats.
Another option is to give clients/customers a behind-the-scenes glimpse into your business.This will allow consumers to put a human face to your brand. This makes individuals realize your company is more than just the products or services you offer, but are also real people just like them. One way of achieving this sort of video is having your videographer produce a "day-in-the-life" type video. The videographer could follow around a different staff member monthly and produce a video of their daily tasks.
The final type of video we will mention has already been touched on a bit – testimonial style videos. Allowing your clients to openly and honestly talk about their experience with your company/products provides future clients with a trustworthy review that comes from outside of your company. It seems as though individuals naturally trust fellow clients as opposed to employees of the business. Creating a video of such content can therefore be very beneficial.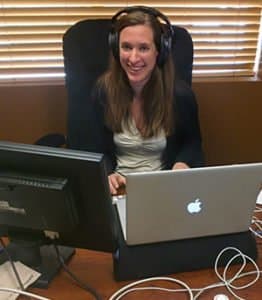 With all these things in mind, Northwest Media Collective can help. Contact us for a free video quote from our videographer, Abby Spyker, today. Also, be sure to keep your eye on our website as we will have a big announcement regarding small businesses and video coming very soon!