What is a marketing agency?
A marketing agency is a company that specializes in helping businesses attract potential customers through a variety of traditional and digital channels. Also called advertising firms or marketing companies, these promotion experts can specialize in one or many techniques.
How much do marketing agencies charge
Many different factors will influence the cost of hiring a marketing agency. Some agencies will work hourly or daily, while others will work on monthly retainers. The marketing agency cost will be influenced by type of marketing, location, and industry. 
How much do marketing agencies charge per month
Most small to mid-sized agencies start at about $2,500 per month for about 12-16 hours of professional time. On the higher side, customers can purchase $15,000 a month for about 100-120 hours of professional time. These feescan cover all sorts of ongoing activities. Typically those that the client considers high priorities, such as email marketing, content development, social media buys, website updates, long-term strategy, media relations, digital marketing, sales support, collateral development, and advertising.
How much does a marketing agency charge per hour
The average blended rate for a marketing agency in today's market is $150 to $200 an hour in most markets, and in the bigger markets, it runs closer to $250 an hour.
Agencies will often have different hourly rates for services such as project management, graphic design, illustration, programming, creative direction, content creation, or strategy development. The marketing agency cost will often vary based on the market rates and the skill or experience of the person performing the task.
Social media marketing agency cost
For social media agencies in the U.S., the cost of social media marketing/management services will vary depending on the agency's location, reputation, and type of social media service offered.
The cost of social media marketing/management in the U.S. can vary depending on many factors. However, most businesses spend about $500 to $10,000 per month on social media marketing and advertising in the United States.
How much do marketing agencies charge for Facebook ads
With more than 1 billion daily active users, Facebook is one of the most popular social channels. When you market your business on Facebook, you have a good chance to reach at least a portion of your target audience. It costs absolutely nothing to set up a business account on Facebook. However, if you want to connect with more customers, there are a few paid options for advertising on Facebook.
Social media services for Facebook generally range from $450 to $3000 or more per month. If you're interested in social media marketing, the average cost is $900 to $3000 per month. In comparison, agency Facebook advertising services range from $1000 to $3000 or more per campaign, with an ad spend of at least $500.
Email marketing agency cost
Pricing varies widely depending on the scope of work, but most of the email marketing agency cost is usually between $500 to $2,000 per month for their services.
A well-designed and well-executed email marketing message reminds prior and existing customers, as well as potential customers, to visit your website and gives them the incentive to do so. Customer retention and relationship building are at the heart of any successful email marketing campaign.
Integrated Marketing 
Some brands only need to market themselves on a single channel, but for most successful brands, the best marketing strategies are integrated.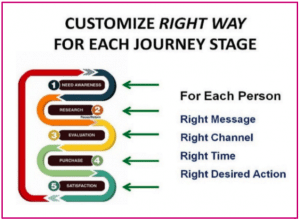 Integrated marketing ensures that all brand contacts received by a customer or prospect for a product, service, or organization are relevant to that person and consistent over time. Integrated marketing  uses multiple channels like search, social, and email.
Although each customer journey is unique, most customers move through the five stages–Awareness, Research, Evaluation, Purchase, and Satisfaction–at some point. An integrated marketing strategy ensures brands deliver the RIGHT message, on the RIGHT channel,  and at the RIGHT time for each stage. For example, you wouldn't want to ask a potential customer to "buy now" before they are aware that the product exists!
An integrated marketing agency is strategic in its use of data analysis to understand consumer behavior and their perceptions of and relationships with a brand. Marketing experts will select the best channels, messaging, and timing for your brand.
Integrated Digital Marketing Packages
Northwest Media Collective specialized in integrated digital marketing packages for small to medium-sized businesses. Each package is developed over several client-agency consultation sessions and is customized to the client's unique needs. Monthly fees range from $5,000 to $10,000 per month. The packages can include:
SEO Blogging

Social Media Marketing across multiple channels: Twitter, Instagram, Facebook, LinkedIn and TikTok

Email marketing

Custom graphic design and video content creation

Social media community management

Google Ads

Seasonal/event-specific advertising campaigns

Dedicated account managers

Analytics

 

Reporting
Why Hire an Agency?
Clients hire agencies for many reasons. Most commonly, brands hire agencies for their expertise in particular areas or industries.
An agency might be hired for its expertise in a specific area. Agency employees usually have a wealth of experience acquired by working with multiple clients in a variety of industries.

An organization might hire an agency for help with day-to-day activities and special projects. 
Contact NWMC today to speak with us about our services and our prices! Check out our work or reach out to our team with your project inquiry to see how we can help your online business.