If you aren't familiar with internet trolls, you soon will be! The comments section of almost any social media platform is where they tend to hang out, but it's also a fantastic way for you to connect with your audience and build trust.
Why Would You Want to Manage Your TikTok Comments?
You want to manage your TikTok comments to maintain your brand, build trust, and create a safe space for your audience to continue commenting. For example, deleting spammy, hateful, or explicit comments is one of the main reasons you want to manage your comments. TikTok even allows you to report the comment under several scenarios if necessary. Also, filtering through the comments to find one that you can reply to with a video is a great way to create new content and answer questions directly.
Can You Check All Your Comments on TikTok?
You can check all of your comments in the TikTok app and on TikTok's Desktop version. You can check all of your comments in the Inbox tab on the bottom right of the app. Look for the pink notification bell. TikTok will direct you to the "All Activity section." On Desktop, you can find your inbox next to your profile at the top right corner of the page.
TikTok App: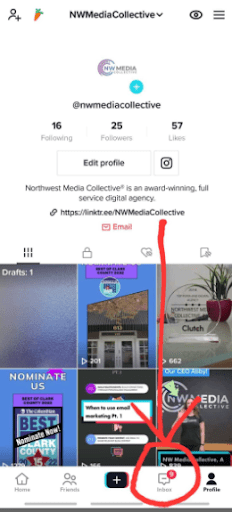 Desktop: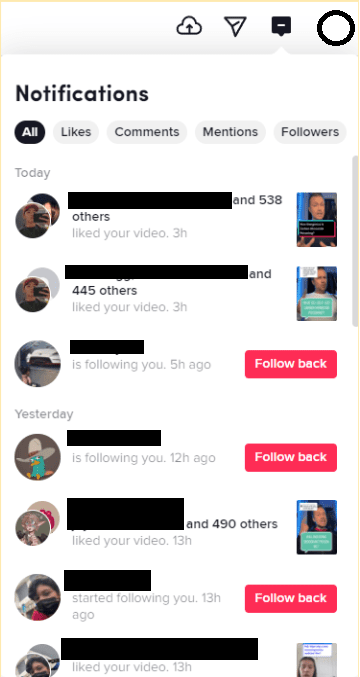 How to Filter TikTok Comments
TikTok gives you several options to control comments on your videos. You can allow certain people to comment, filter comments by keywords, or turn them off.
To start filtering your comments, head over to your profile.

Then select the hamburger menu at the top right and select "Settings and Privacy."

Select "Privacy," and under the Safety section, select "Comments."
TikTok gives you a variety of options to manage your comments. Choose who can comment on your videos and stories. Toggle on comment filters that allow you to approve comments before being displayed on your video and even review filtered comments for approval.
Limit TikTok Comments
You can limit who is allowed to comment on your TikTok videos if privacy is a concern. You can allow comments from:
-Everyone
-Friends: Followers that follow you back
-No one
Turn Off Comments
The fastest and easiest way to limit comments on your videos is to turn off the comments. You can do this one of two ways either before or after publishing your video.
Before you post a video, you will see a section below your caption that says "Allow Comments," which you can toggle on or off.
If you have already posted the video and want to turn the comments off, first, select the video you want to disable comments on. Then select the three-dot menu option just below the comments. Find the grey icons at the bottom and scroll to the right until you see "Privacy Settings" and select it. From here, TikTok will give you the option to control who can watch this video, allow comments, allow duet, or allow stitching.
Filter Comments by Keywords
If you really want to tighten the security of your comments, then filtering comments by keyword selection is the best option for you. You can filter specific topics and words by letting the TikTok AI know to hide any comments that contain [x], [y], and [z]. To do this:
Go to "Settings and Privacy"

Select "Privacy"

Under Safety, select Comments.

Toggle on "Filter Keywords"

Enter your keywords
This option will automatically detect the words you input and hide any comments that contain these words. You will still be able to review these blocked messages and approve them. To do this, follow the above steps, but instead of clicking "Filter keywords," select "Review filtered comments."
Moderate to Mute Spam or Disrespectful Comments
If Live videos are part of your regular content strategy, think about if you need a moderator during your live sessions. By adding a trusted account to your moderator list, you allow them to oversee the comments section during your live video session. They can mute or report unwanted content.
To add a moderator to your TikTok Live:
Tap the + button and select LIVE

Select "Settings" and then go to the moderatos section

Tap the small person icon on the right corner

Select one of your followers to become your assistant during the live stream
Please note you are only eligible for Live sessions once your account reaches 1,000+ followers.
Can You Delete Comments on TikTok
Yes, you can delete comments within the app and on the Desktop. In the app, press and hold down on the comment you want to delete. Then select "delete" from the menu that appears. If you are on a Desktop, hover over the comment you want to delete. Above the heart icon, you will see three dots appear, hover on those, and you will see an option to report or delete the comment.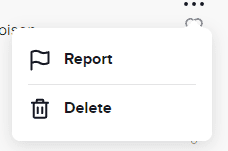 Will Someone Know if You Delete Their Comment?
No. A user will not know if you delete their comment. The only way they would know is if they revisit the video they commented on and see that their comment is no longer there.
Develop a Strategy for Managing your TikTok Comments
When it comes to social media management, you want to ensure that you have a streamlined system to manage your TikTok comments, especially if you plan to incorporate any of them into future videos. Need some help managing your comments? Our experienced team can guide you through the best strategy for managing your comments and content. Contact us today by filling out our contact form.